Arizona Investment Properties and More
Starting in 2008, during the worst of the local real estate crash, Roadrunner Real Estate Enterprises created a real estate investment program for people like you. We discovered properties for investors who purchased them and leased them back to us at a healthy profit. We made upgrades to those properties and rented them out at no risk to the investors. At the end of 5 years, we then sold those properties and split the profit.
We both made good money and dozens of families got to live in a nice rental property. It was a classic win-win-win.
We're in the process of selling the last of those properties.
New Times and New Ideas
The prices of 2008-2011 are ancient history and our old program no longer makes sense. We are busy putting the final touches on a new program that our investors can use to make money in today's climate. We're not ready to make any details public just yet, but we would be happy to let you know about it when we are finished. Just drop us a note on the form below to let us know you might be interested. There is absolutely no obligation.
Contact Roadrunner Real Estate
Comments or questions are welcome.
Powered by Fast Secure Contact Form - PHP
Thank you.
Meet Carmen and
Guillermo Perez-Vargas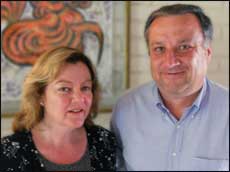 My wife Carmen and I were born in Mexico, but moved to Phoenix in the 1970's.
Our roots are deep. My ancestors have lived in Central Mexico and Southern Arizona for generations. My great grandfather founded what later became the Bank of Arizona.
We're both engineering graduates of ASU, and we have 2 teenage daughters. We have been active investors in real estate in Phoenix since 1998.
Our philosophy is simple and time-tested: Buy Low and Sell High. More specifically, in real estate, the money is made when you buy. Buying at the lowest possible price, generates the best possible returns.